Posted by Jason Berberich on January 11, 2007 9:33 AM
This map has been sitting on my desktop for a couple of weeks now, so I figured it was finally time to get it up. This is Customs' updated map (as of December 21st, 2006) showing all of the current ACE ports. So basically, you can file e-Manifests for any port listed as deployed, even if they aren't on the January 25th "mandation" list.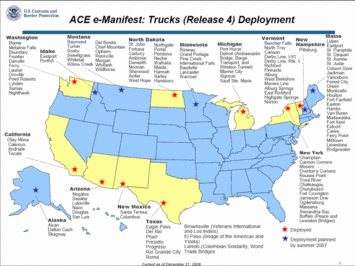 If you want to print the map out, Customs has a downloadable version (PDF) available.